Most people know what a "documentary" is, but they usually consider it as an uninteresting genre which deals with human life without dramatic effect and fictional factors. It is, however, an effective medium for delivering certain messages to viewers and can make them change their attitudes as well. Therefore, the Sungkyun Times (SKT) interviews producer Lee Seung-moon, the director of the documentary film Dance Sports Girls, to hear some of the stories behind making a documentary.
Documentary: A Special and Interesting Genre
Q1. Please introduce yourself to the Kingos.
I am Lee Seung-moon, a producer at the Korean Broadcasting System (KBS). Basically, I have been making educational programs including documentaries for seven years. I am also the director of the documentary film Dance Sports Girls.
Q2. Are there any special reasons as to why you started filming documentaries?
Honestly, I do not think that there were any special reasons, but it is obvious that I have had some tendencies towards documentaries throughout my life. In 2004, when I was 20 years old, I used a video camera for the first time. At that time, I visited Pungdong, Ilsan with one of my school seniors, where people were fighting against each other at a demolition site. It was not an image which I had imagined to see in Korea in the 21st century. There were gangsters with metal pipes and people with firebombs in
watchtowers, trying to protect their homes. I was really shocked to see the filmed scenes, as well. Some indescribable emotions arose instinctively and unconsciously within my mind. Actually, the fact that I lacked confidence in turning imagination into images also helped me to realize that my personality would fit well with documentaries which deliver stories of people's lives to others.
Q3. What do you think is the attraction of the documentary genre?
From the view of a director, documentary is a genre that is difficult to understand and control all the stories coming from all different streams. Hundreds of variables can occur throughout the production process, sometimes forcing changes of all the original plans. If those variables and the process itself are captured well on the screen, I think it can then be seen as a 'living documentary.' I recently read a book written by film director Hirokazu Kore-eda, where he said "fiction is for intoxication, but nonfiction is for arousal." Since being aroused requires much more effort and consciousness than being intoxicated, it would be hard for documentary to be a popular genre. Nevertheless, in that it shows stories of real living people, as I mentioned before, the documentary genre is still attractive. That is, it gives us an opportunity to know more about people's lives and understand them better.
Q4. What do you focus on the most while directing a documentary?
To maximize the attraction of a documentary, I try not to limit the stories of people with my hasty decisions. It is quite similar to human relationships. Assuming that I am in love with someone, I
cannot impose my ideal image of love on my partner, even though I have one. Similarly, documentaries are one way of meeting people. Therefore, I try to keep a careful attitude. If my first intention does not correspond with the people I am trying to describe, I should always change every direction of my work with the right attitude.
Particularly, with a camera, a director cannot create the exact same situation as without it. It is because not only a camera, but also a person behind the camera like me exists; this results in inevitable change. No one can make a "real" documentary thinking that it would be possible to control every change and shoot like a closed circuit television (CCTV). Time is required, and as time goes by, there is sure to be a moment when people forget the existence of a camera. I just wait for that moment.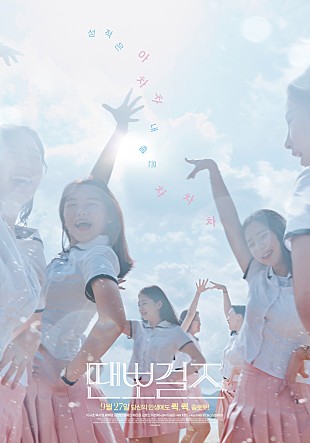 The film Dance Sports Girls Poster/movie.naver.com
The Film Dance Sports Girls
Q5. The movie Dance Sports Girls, which was released last year, is a documentary film. Can you introduce the movie to the Kingos?
Geoje is a city which once had an advanced shipbuilding industry, but now it is having difficulty with maintaining the industry and is going through large structural adjustment. At the edge of this sudden change, there were several 18-years-old girls. They did not know exactly what fear they were going through. Nevertheless, with honesty and bravery, those girls tried to find beauty in their own lives through dance sports. The film Dance Sports Girls is their story.
Q6. Why did you decide to make Dance Sports Girls?
Making this film was a consequence of intuition and coincidence. At first, I wanted to shoot a reportage about the workers in Geoje, covering the crisis of the shipbuilding industry. I did meet lots of people there, but it was not easy to make something new. I could not come up with any fresh ideas except an impression of how lucky I am not to be poor like the workers. In the meantime, I found the Geoje Girls' Commercial High School on the map and discovered that there was a Dance Sports team, called 'Ddanppoban.' One of the teachers said that the students were also victims of the collapse of the shipbuilding industry, because they usually ended up with a job related to it, when they finished school. Frankly speaking, I regarded their stories as being far from what I wanted to make, so it seemed like a challenge for me to make a documentary covering their lives. I, however, changed my mind as soon as I saw them practicing. They had a special energy. Their lives, including their conversations with friends and teachers, were trivial but beautiful. I saw value in what I saw from them, so I decided to make a documentary about them.
Q7. Dance Sports Girls was originally a 55-minute long television documentary broadcast on KBS. Why did you decide to release it as a film?
I wanted to get a stimulus to make a new documentary from the film genre. I discussed with the director of photography how to avoid making the same existing human documentaries that evoke monotonous and dark emotions. Meanwhile, we also thought that if we made this documentary into a film, there could be a difference in the overall result. In fact, we also used cameras that are usually used in cinema. Even though I did not know whether the documentary would actually be released as a movie or not, we kept the possibility open. After deciding to release it, I added some scenes which vitalized the sense of realism unlike the broadcast version.
Q8. Dance Sports Girls is about the lives of the juvenile, but deals with them slightly differently compared to other media; it describes the juvenile more solidly and realistically. What did you try to emphasize while describing the relationships and emotions of the Ddanppoban?
I was not worried about those kinds of problems when I first started shooting; I only focused on observing and catching their personalities. As the work went on, howver, I realized that the way of describing female juveniles on media is so dichotomous. Ironically, this means I actually did nothing to emphasize something. For instance, when one of the girls showed a rude action towards her teacher, I wanted to know the inner mind of the girls, such as the reason they reacted like that. I did not make any decision about them merely based on superficial appearance. Naturally, I could not have any prejudice against any of them. What I want to say is "I really did nothing." I wanted to capture their natural image and allow them to show their feelings voluntarily. Although this could have reduced the dramatic effect, I thought it was the right way to show who they are without any fictional factors.
At Last, Documentary Makes Change
Q9. What changes did you go through after your first documentary film was released?
The reason why I wanted to try something new at the time I filmed the movie was the depression I felt when not many people watched what I made as a producer, a content creator. It was so painful and made me lose my confidence. At that time, I felt helpless and even thought I was not good at anything. While making this first film Dance Sports Girls, however, I gained more confidence and was able to think that at least some people would be willing to watch my work. Now I can say I know how to create good work. Unlike before, I started to have more detailed and positive thoughts, such as designing what and how I can deal with things specifically.
Q10. What was your impression of working in the fields of independent film and documentary film?
I think I am still in a third-party position in those areas. In fact, I belong to one of the mainstreams for various categories of content creation; I have a steady income of work, which is surely a benefit. I am afraid of evaluating those fields, because I may hurt those who are still making movies through a lot of processes and hardships. On the other hand, however, I hope that I could help stimulate them too. Also, I got to realize that a lot of things that I had never imagined before do exist. One fact that I sincerely noticed is that independent film distribution is still limited, no matter how great the works are. There is a certain tendency even in the independent film field; foreign films are welcomed, while domestic documentary films are shunned. It is true that there is limited content, but I believe that it will get better. As the number of films increases and the audiences grow, the market surely will change.
Q11. What topics do you want to cover in your next project? Do you have any new messages to deliver to the audience?
I want to tell stories of people who are at the very edge of a large incident, such as the Sewol ferry disaster. Last April, when Dance Sports Girls was broadcast on television, I visited Mokpo and Paengmok Port, where the ship refloating work was ongoing. There were residents living and working there. I wondered how their lives had changed after the disaster, because it seemed like no one in society was interested in them. I will not, however, send a message that someone's life must be broken if he or she went through any unfortunate affairs. Rather, my ultimate goal is to find hope within human life! I want to tell others that life must go on.
Q12.What do you expect from audiences who watch your work?
I do not really like the word "hope," but it is slightly different from assuming that there is no hope. It is not helpful for everyone to give up imagining what hope looks like. By watching my work, I wish for the audience to get an opportunity to find real hope, which is trivial, but can give positive energy to their lives. Therefore, I am thankful to my audience who said that they found hope by recalling their adolescence and adulthood through my works.
Q13. Any words for the Kingos who are dreaming of becoming a documentary producer?
Do your best, but do not try to be the best. A basic initiative is needed to make documentaries, but you have to work humbly and steadily. Paradoxically, you should study a lot, but do not limit your study just to schoolwork. The more you study, the more you will realize that the world cannot be explained just with the knowledge that you have learned from school. For instance, you may realize that you have weak points when it comes to human relationships. You should consistently think of those kinds of impossibility, which would broaden your sight. Ironically, knowing your limits prevents you from blocking the possibilities around you. The time when one could make documentaries only with a quantity of knowledge has passed. Therefore, please keep in mind again, do your best, but do not try to be the best.
이수연 pim545@skku.edu
<저작권자 © THE SUNGKYUN TIMES, 무단 전재 및 재배포 금지>